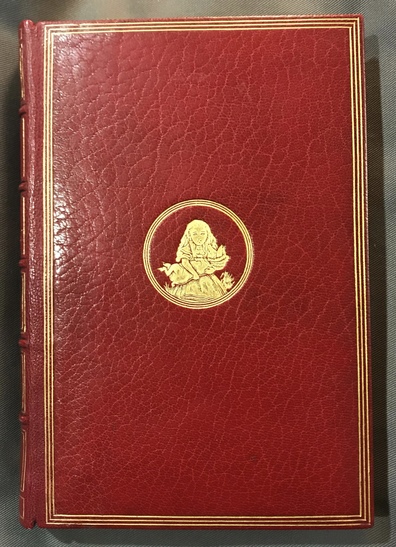 Cover binding (YRL Special Collections, CBC PR4611.A39).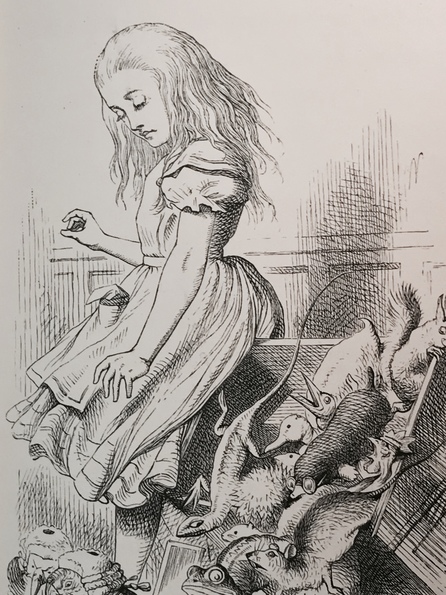 This edition includes forty-two illustrations by John Tenniel (YRL Special Collections, CBC PR4611.A39).
Alice's Adventures in Wonderland by Lewis Carroll, 1866
A first edition of Alice's Adventures in Wonderland can be identified by its red cloth board covers, intricate gilding, and the medallion portraits it bears on both its upper and lower boards, (see above for the portraits of Alice and the Cheshire Cat on the upper and lower boards).
Second pressings of Alice's Adventures in Wonderland, like the volume pictured above, emerged only months after the first edition made its debut in 1865. Charles Dodgson (pseudonym Lewis Carroll) was unhappy with the quality of the first edition; hence, a second pressing was undertaken in New York. John Tenniel, already a highly respected illustrator in his own right, was approached by Dodgson himself to create the set of forty-two unique wood engraved illustrations that embellish this iconic narrative. This particular example also bears a personalized inscription written in pencil: "Nellie Draper from Aunt Mary, New York."
Considered by some to be the most cherished example of children's literature in the Victorian era, Alice is beyond charming - it is a remarkable object of literary study. Since its initial publication, it is notable to mention that the novel has not once been out of print, (for more information see resource number four, Alice in Wonderland's Hidden Messages). Within thirty-five years of its initial release, Alice had already been translated into six different languages, including Swedish, Russian, and Japanese (for more information, see resource number five, Alice's Adventures in Wonderland: Publication History). The striking quality of this text is matched only by the homage it pays to mid-nineteenth century aesthetics, and its intimiate inscription, ("Nellie Draper from Aunt Mary, New York"), preserves the link to Alice's origins as an enchanting tale exhanged between children and adults.
♣︎ Resource 1. Enjoy reading Alice's Adventures in Wonderland on your favorite electronic device, complete with the original Tenniel illustrations that graced the original first edition! BookVirtual™ boasts that this is the "world's most precise all-digital replica of the world's most famous children's book". Alice's Adventures in Wonderland
♥︎ Resources 2 A and B. The British Library provides access to two intruiging articles on the subject of Alice, both of which explore the influences that shaped the creation of a literary giant that is now, as Professor Kimberley Reynolds puts it, "a global phenomenon." The articles also feature images of the Alice-related holdings of the British Library, including an original manuscript featuring illustrations drawn by the author himself. Understanding Alice , The Influences on Alice in Wonderland
♠︎ Resource 3. Created by an English student at Carleton College, Curiouser and Curiouser: The Evolution of Wonderland is an incredible resource for those passionate about all things Alice. Lauren Millikan, the site's founder, channeled her passion for Alice through this digital medium in an attempt to "understand how Wonderland has evolved over time," by exploring the vast array of existing "critical interpretations of the novel." These interpretations center upon everything from feminism to psychoanalysis, and explores biographical, Victorian, and even psychadelic interpretations of the text...all in order to "track how Wonderland has evolved in readers' imaginations."
♦︎ Resource 4. A fitting complement to the previous suggestion, (Lauren Millikan's Curiouser and Curiouser: The Evolution of Wonderland), Alice in Wonderland's Hidden Messages, published online at the BBC's website, offers an edgy, entertaining, and modern take on the way that Alice has permeated pop culture. Although some of the theories brought forth are dubious to say the least, (rumors of disguised sexual innuendo, political commentary, and drug use abound!), ultimately, the piece concentrates on the ways in which understanding "changing social mores can radically alter" the public's perception of a text.
Supplementary Resources Fall down the rabbit hole and continue your research! Visit the following Wikipedia pages for more background information on Alice's Adventures in Wonderland, its sequel, Through the Looking Glass, and What Alice Found There, it's author, Lewis Carroll, and illustrator John Tenniel.
This spotlight exhibit by A. Whalen as part of Dr. Johanna Drucker's "History of the Book and Literacy Technologies" seminar in Winter 2018 in the Information Studies Department at UCLA.
For documentation on this project, personnel, technical information, see Documentation. For contact email: drucker AT gseis.ucla.edu.