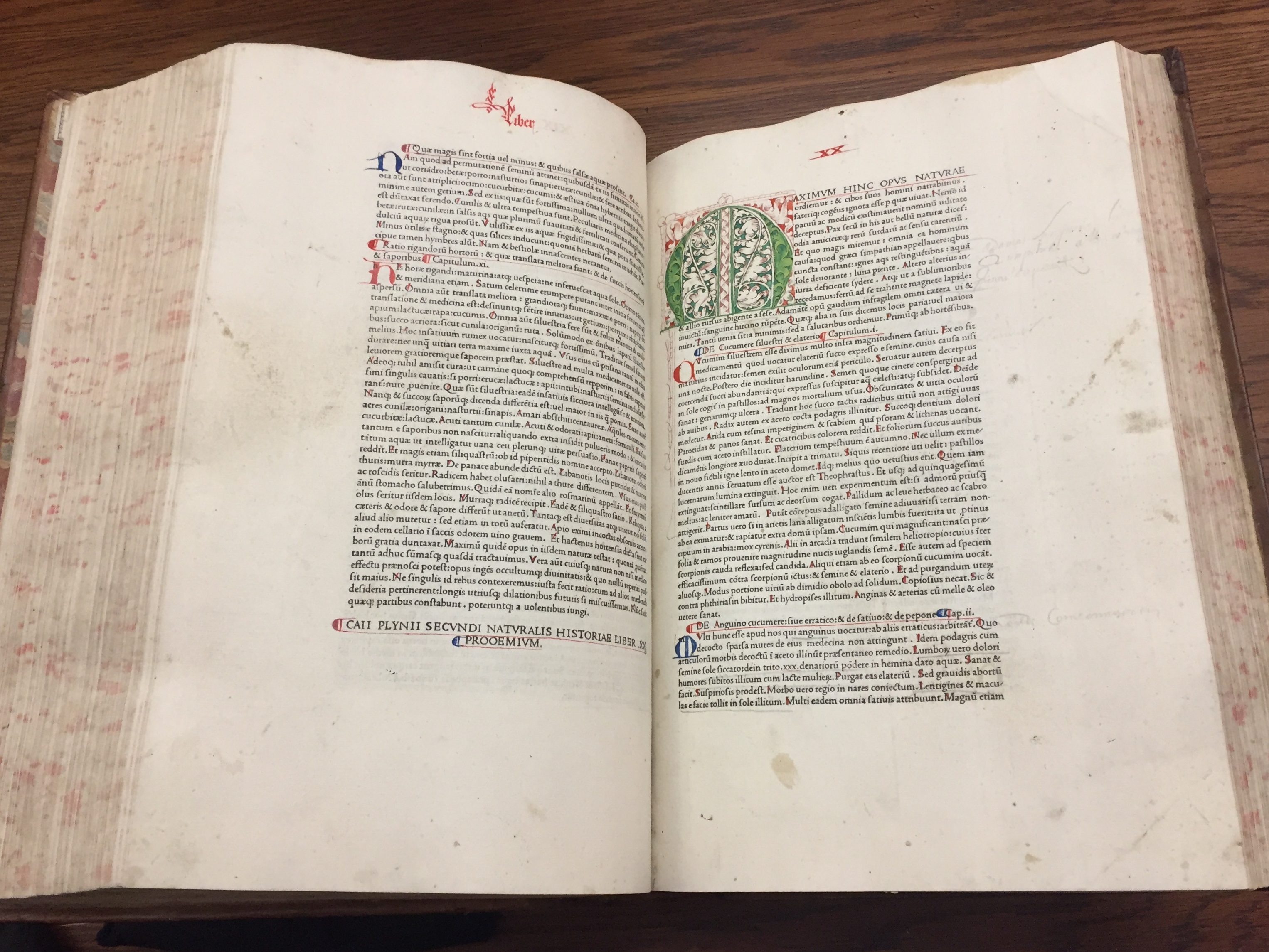 Naturalis Historia (**A1 .P71h 1472): Book 20, Remedies derived from the garden plants. "Liber" appears in red ink at the top of the page on the left, and roman numeral XX (20) on the right.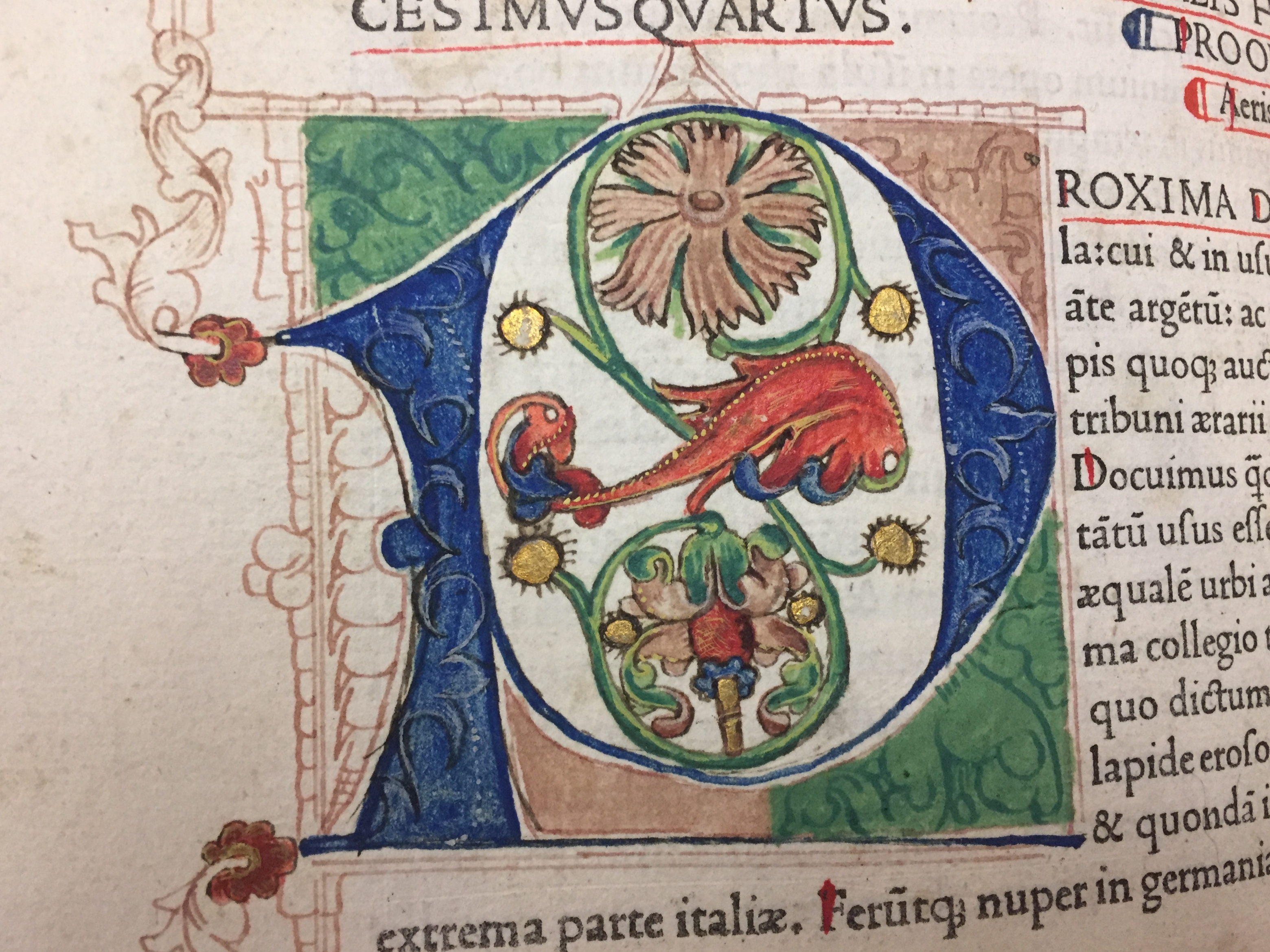 Detail: Illuminated initial 'P' with gold leaf. Other illuminated initials seem to have been prepared for gold leaf which was ultimately not applied. Most initials depict stylized botanical forms, with a small number showing human or animal figures.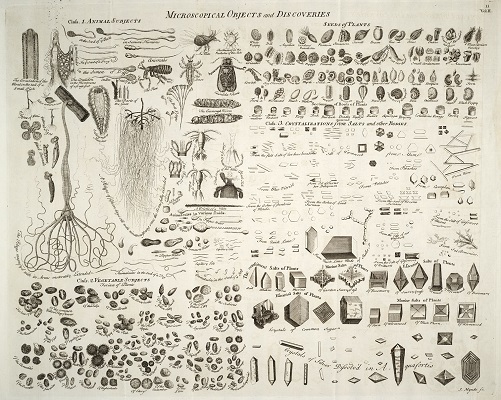 Detail: Jenson's roman typeface. Note the small printed "i" on the left side next to the large "I" in manuscript hand. Presumably the printed "i" indicated which letter the artist should illustrate.
Naturalis Historia by Pliny the Elder, published by Nicolas Jenson, 1472
Often described as the first encyclopedia, Naturalis Historia (Natural History) was the leading authority in medieval Europe on a wide range of subjects including but not limited to botany, zoology, geography, mineralogy, medicine, and anthropology. The thirty-seven volume classic is the only surviving work of Pliny the Elder (23-79 CE), and was completed around 77 CE. While many works of antiquity were lost after the fall of the Roman Empire, Naturalis Historia was reproduced widely throughout Europe and became the foundation for the medieval understanding of the natural world before Linnaeus. Pliny drew from numerous sources and readily mixed fact with fiction, but his errors did not seriously begin to be addressed until Niccolo Leoniceno's challenge in 1492.1 Nevertheless, it is not surprising that it was one of the first works to be printed following Johann Gutenberg's invention of movable type in Mainz.
This version was edited by Giovanni Andrea, bishop of Aleria, and published by Nicolas Jenson (c. 1420-1480) in 1472, just two years after Jenson established his print shop in Venice. This was not Jenson's only printing of Naturalis Historia, as he went on to print an enormous run of 1025 copies of an Italian translation in 1476.2 Measuring approximately 29 cm wide by 40 cm long by 9 cm tall and containing 358 leaves (716 pages), this hefty folio was clearly meant to impress. The binding is calf leather with very minimal gold stamping on the spine for the title, and the interior is marbled. The bookplate identifies the owner as the Earl of Roden K.St.P.; according to the UCLA Library catalog, this may be Robert Jocelyn, 2nd Earl of Roden. There are a few annotations in different handwriting scattered throughout the book, but the majority are concentrated in volume 20, which references medicinal properties of common garden plants. The overall condition is quite good, although the first and last few pages show some staining. A few pages have tears that have been repaired.
Like many incunables (books printed before 1500), this copy includes both print and manuscript hand. The book features 38 illuminated initials marking the beginning of each volume, including eight with gold leaf. The artist(s) used alternating blue and red ink and occasionally green ink to emphasize initials within a paragraph. Manuscript hand also appears in red ink at the top of each page: "liber" or "libri" ("book") is written on the verso (left) side, and the roman numeral representing the volume is on the recto (right) side of the page. This volume number corresponds to a detailed table of contents at the beginning. Each design for "liber" or "libri" is unique, and in five instances, the artist playfully integrated the profile of a man or a dog into the word. This provides the reader with a way to navigate through this huge work even without page numbers.
There are fifty lines of text per page. The evenly spaced type demonstrates the high level of craftsmanship that went into the printing process. Another notable feature of this copy is Jenson's signature roman typeface, which can be easily read by modern viewers-provided they know Latin, that is. Jenson's humanistic font was quickly adopted by other printers and remains his greatest legacy.3
---
Notes
1 Stannard, Jerry. "Pliny the Elder." Encyclopedia Britannica. Accessed February 20, 2018. https://www.britannica.com/biography/Pliny-the-Elder. ↩
2 De Roover, Florence Edler. "New Facets on the Financing and Marketing of Early Printed Books." Bulletin of the Business Historical Society 27, no. 4 (1953): 222-30. https://doi.org/10.2307/3110897. ↩
3 Olocco, Riccardo. "Nicolas Jenson and the success of his roman type." CAST. April 4, 2017. https://articles.c-a-s-t.com/nicolas-jenson-and-the-success-of-his-roman-type-9f0afeba4103. ↩
4 See also: Gudger, E. W. "Pliny's Historia Naturalis. The Most Popular Natural History Ever Published." Isis 6, no. 3 (1924): 269-81. http://www.jstor.org/stable/224311.↩
This spotlight exhibit by Rachel Poutasse as part of Dr. Johanna Drucker's "History of the Book and Literacy Technologies" seminar in Winter 2018 in the Information Studies Department at UCLA.
For documentation on this project, personnel, technical information, see Documentation. For contact email: drucker AT gseis.ucla.edu.